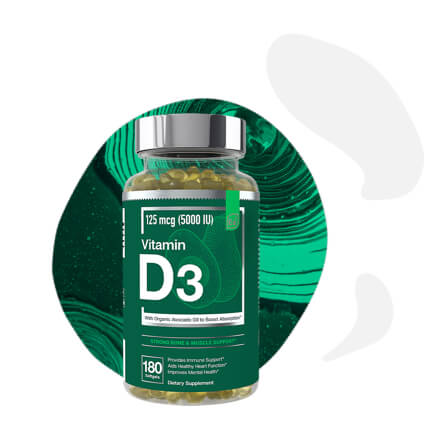 Product Description
Essential elements® D3 provides 125 mcg of this key vitamin, needed to support vital body function and promote greater whole body health. Vitamin D3, delivered in organic avocado oil for improved absorption, is clinically shown to support healthy bone, teeth, and muscle function, while also boosting the immune, cognitive, and cardiovascular systems that are essential to your well being.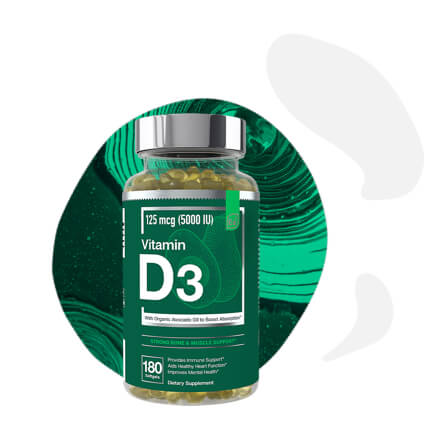 the science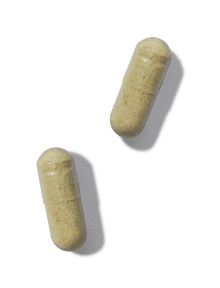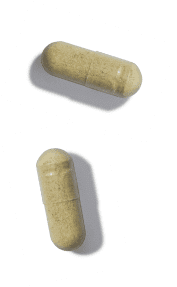 Read More

The Science

Vitamin D3 helps your body absorb calcium, needed for healing and strengthening bones, as well as phosphorous, which also helps improve the skeletal structure and helps optimize how your body uses energy.

While vitamin D is created naturally by the body when exposed to sunlight, supplementation ensures this occurs regardless of weather, sunscreen, limited exposure, and other factors. Maintaining the right levels of vitamin D3 in the body, and its resultant calcium and phosphorous regulation is essential to long-term bone strength and health. In fact, vitamin D is also associated with improvements in lung health, the cardiovascular system, and the immune system.
Ingredients
Ingredients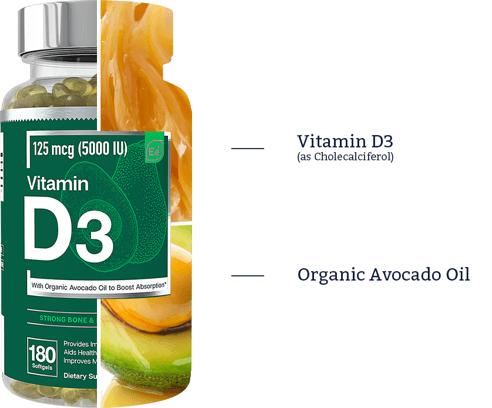 Supplement Facts
Serving Size: 1 Softgel
Servings Per Container: 180
Amount Per Serving
Vitamin D3 ( as Cholecalciferol)
125 mcg (5000 IU)
*Daily Value Not Established

Other Ingredients:

Organic Avocado Oil, Gelatin, Glycerine, Water

*These statements have not been evaluated by the Food and Drug Administration. This product is not intended to diagnose, treat, cure, or prevent any disease.
Show All Ingredients
Ingredients
Vitamin D3 (cholecalciferol) is created by removing it from naturally occurring lanolin. By using organic avocado oil as a carrier, the oil-soluble D3 is made more bioavailable, meaning your body is able to more efficiently use it.