○ 10 min read
Getting Hy With Pro-Surfer Koa Smith
We sat down with pro-surfer Koa Smith to get his view on life, pre-surf rituals, and recovering from his most gnarly wipeout. So, put on your boardies and come along with us on our visit to meet Koa and get to know how he keeps up with living life at full speed.
If you don't know much about him yet, he is one of surfing's top athletes and also the kind of guy you'd love to grab a coffee with. Kauai-native Koa Smith is known for many things. Some of which include pro surfer, pipeline specialist, barrel of the year winner, tv personality, wellness entrepreneur, health-conscious consumer, ACV enthusiast, and HYdration hero with a hy-er than life personality.
He's surfed the globe catching the world's most impressive waves, and co-runs several health food shops in the states. Koa embodies the Ee brand by bringing fun, freedom, and athleticism to everything he does.
Koa has the laidback attitude you would expect from a good-looking, beach-loving Hawaiian, but he has tons of dedication towards his sport. He knows when to work hard and spends a lot of time training and keeping his body in prime condition. When we met up, he told us all about how he keeps up with working out, eating healthy, and staying hydrated.
When did you first get into surfing, and what drew you to it?
"I started surfing at age 3! As soon as my older brother Alex started, I was likeeee I'm surfing too! I don't even think I knew how to swim yet!
After winning 3 national championships at a junior level, what motivated your decision to pursue "freesurfing" rather than focusing solely on surf competitions into adulthood? How did the people in your life react to that decision?
"I actually jumped right on the qualifying series after my titles and started grinding away trying to get on the Championship series. It was a little backward at the time. In order to get on the "Dream Tour," which was held in the very best waves around the globe, you first had to learn how to compete in complete slop!
Most contests were held in ankle to waist-high waves. After a while of trying to learn how to grind, I felt myself forgetting why I surfed! I realized surfing was wayyyy more than just competing, and nothing compared to surfing pumping, uncrowded waves with your best friends!"
How is surfing different in your home state of Hawaii compared to other places in the world? Do you have a favorite surf home-away-from-home?
"Well, first off, it's warm! So you can quickly jump in the ocean with just shorts on! Also, since it's in the middle of the Pacific, we get that raw ocean energy which holds more power! A 3ft wave in Hawaii has the power of a 6ft wave in California. My all-time FAV destination is South Africa!"
Do you have any mental or physical pre-surf rituals, and if so, what are they?
"It really depends on how the body and mind are feeling. Surfing can be a very violent sport, especially if you're surfing Pipeline or doing airs!"
"I like to do a quick warm-up, get all the clicks and cracks out! Stretches, activation squats, jumps, etc. If the waves are big, I like to check in on my breathing, making sure my lungs are feeling strong and comfortable."
What's the story of your worst wipeout or your best wave?
"I think it's better if I show you ;) Here is a short video explaining my worst wipe-out! Hit my head on the reef and got knocked out! And here's a link to the best wave ever!
Apart from surfing, what do you do to stay in shape? How do you keep yourself at an elite level?
"Surfing keeps you fit for sure, but it's actually really hard on the body! I do functional fitness, yoga, and forest or beach runs when the waves are small."
What feels good at the end of the day or after surfing? How do you recuperate?
"I've fallen into a deep love with the ice bath and barrel sauna combo! I do about 2- 4 rounds after a long surf, and it makes me feel like a superhuman!"
What do you do on your lazy/cheat days? Are you lounging around the house, in town, relaxing at the beach, etc.?
"Oh man... I'm not very good at lazy days! If I'm not surfing, I'm usually training or catching up on work! In the case that I overworked myself and am just cooked, I'll pretty much sleep and eat all day, ha!"
From the outside looking in, surfing doesn't seem like a sport with a big emphasis on staying hydrated. People assume because you're in the water and they can't see you sweat that, you're probably okay. But saltwater can actually accelerate dehydration — not to mention you're in constant motion with little protection from the sun. Can you talk about what you do to manage hydration out in the water?
"Oh man! It's a constant battle with dehydration! I constantly carry around a 64oz water bottle, and I'd say I usually drink 2-3 a day. That's when the little Hydrate packets become major hacks! SO helpful!"
If you weren't surfing, what would be your next profession of choice? Another sport?
"Hahaha! Sheeeesh! I've fallen in love with many hobbies, but surfing always takes me back over! I got super into bow hunting for my food! So I'd probably live in Utah or something, fishing, hunting, living off the land!"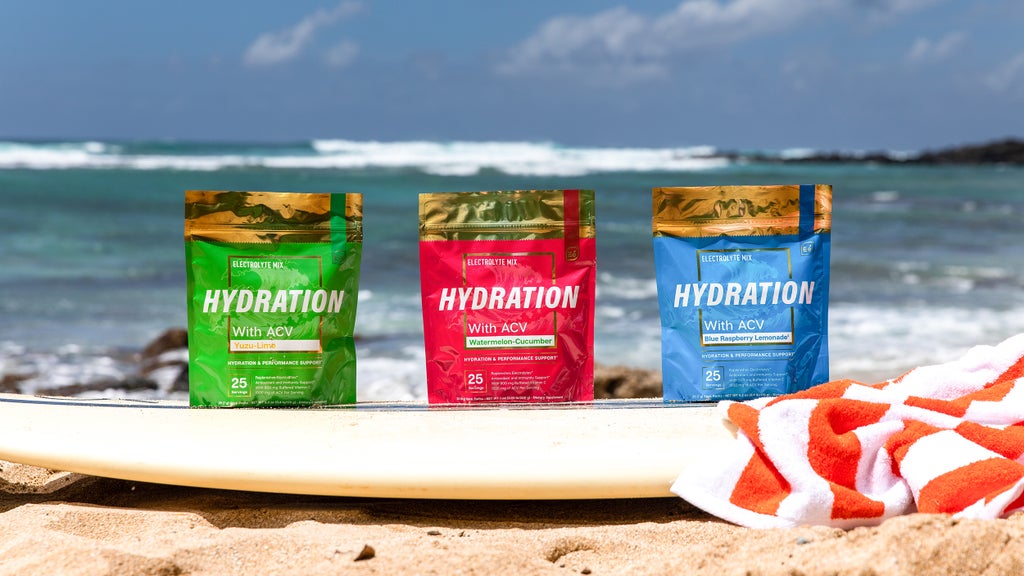 Do you have a morning routine? What does it look like?
"Yesss! When I'm ON, this is it."
1. "Cool shower with gratitude (Spill out the things you are thankful for!)."
2. "Stretch"
3. "Meditate 20 min or breathwork."
4." Mud WTR tea or bullet coffee."
5. "Journal 10 min."
Do you have a nighttime turn down? What does it look like?
"It depends on what I have going on. I'm usually in bed around 9-9:30 PM. I have red lights in my house after sunset, which help me get nice and sleepy. I'll stretch if I'm feeling sore or have a bath, listen to calming music, take some CBD, and PASS DA FOX OUT!"
What are the game-changers for you in terms of performance?
1. "Eating a solid clean diet, organic from the land, minimizing grains."
2. "Meditation, making sure your mind is still."
3. "Cross-training, making sure you are as strong as possible."
4. "Minimizing phone time."
What do you do when you're having a rough day out in the surf?
"I've been surfing long enough to know those days happen. I'll either just paddle in or just try to soak up what's happening around me, feel the water, the wind, and the sun in my face. Bring it back to gratitude for what I'm doing and appreciate it all. That usually centers me."
You're stranded on a desert island — what three things are you taking?
"Surfboard, speargun, girlfriend, hahaha! "
The Essential Element
We were stoked to be able to get an inside look at what the life of a pro-surfer like Koa is like. We were even more Hy-ped to find out that he uses some of our products (like Hydration, PreWorkout With Beet & ACV, and our Apple Cider Vinegar Gummies) which he keeps around to use in his training, daily recovery, and for staying at the top of his game. If you want to follow Koa on his surfing journey around the world, find him on Instagram and come get Hy with us anytime you need a little inspiration for your own athletic pipe-dreams.
Essential elements® always has your back, and it's people like Koa (and you!) that remind us why we do what we do. We keep it real and give you only what you need, with none of the stuff you don't. Reach for Ee to fuel your workout and your fun, and don't forget to Get Hy!
Back to Fitness