T-Hero's excellent formulation makes it the highest-quality testosterone booster on the market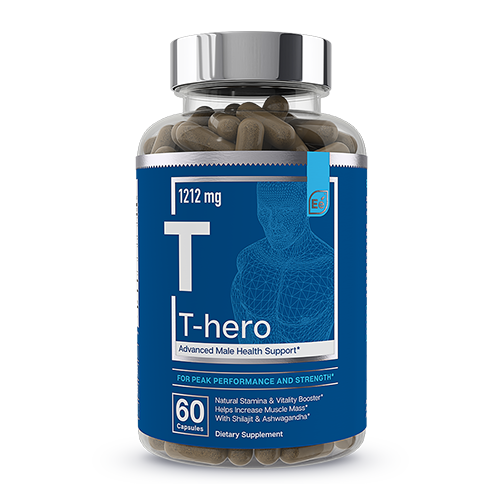 T-hero quickly and effectively promotes your testosterone levels with all-natural ingredients. Whether you want to improve your workout performance or maintain your health as you age, T-hero is the solution for you've been looking for.
Better regulation of your testosterone will give you that extra push you need to finish your workouts strong. You'll enjoy greater benefits from your efforts, including increased strength and muscle gains from your training regiment.
What a Testosterone Booster Can do For You
A well-formulated, potent testosterone booster can:
Promote Physical Stamina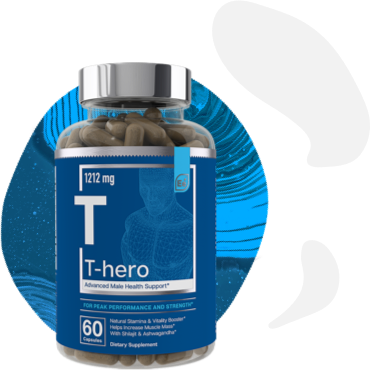 Promote Muscle Mass
Increase Blood Flow
Elevate Mood
Support Cognitive Function
But in order to take advantage of all these benefits, you need ingredients that are backed by clinical studies. That's why we made T-Hero.
Why T-hero is a Cut Above the Rest
T-hero is designed to affect multiple areas of male health by reducing factors that cause low testosterone as well as improving the body's ability to create more. One way in which T-hero helps is simply by reducing the effect that stress has on the body.
We included:
♦ Ashwagandha Extract: Widely used for its abilities to boost mood while relieving the stress that can cause lowered testosterone levels, ashwagandha is one of the world's only herbs capable of 20 distinct applications.
♦ Shilajit (20% Fulvic Acid): A mineral resin found in the Himalayas, shilajit is rich in fulvic acid, which is known to help promote testosterone levels.
♦ Diindolylmethane: A compound naturally created in the body when digesting cruciferous vegetables like spinach and kale, diindolylmethane (DIM) can block the enzyme that converts testosterone into estrogen, meaning more testosterone remains in the body.
♦ Boron: Boron has been shown to help increase the metabolism of testosterone into free testosterone, which is the type most easily used by the body.
Together, these ingredients are a powerful way to stay physically strong, mentally energized, and in a good mood throughout the day. Plus T-hero is backed by a 365-day, full-satisfaction, money-back guarantee—zero questions asked.